Altizon Showcases Its Manufacturing Intelligence Solutions at Hannover Messe 2019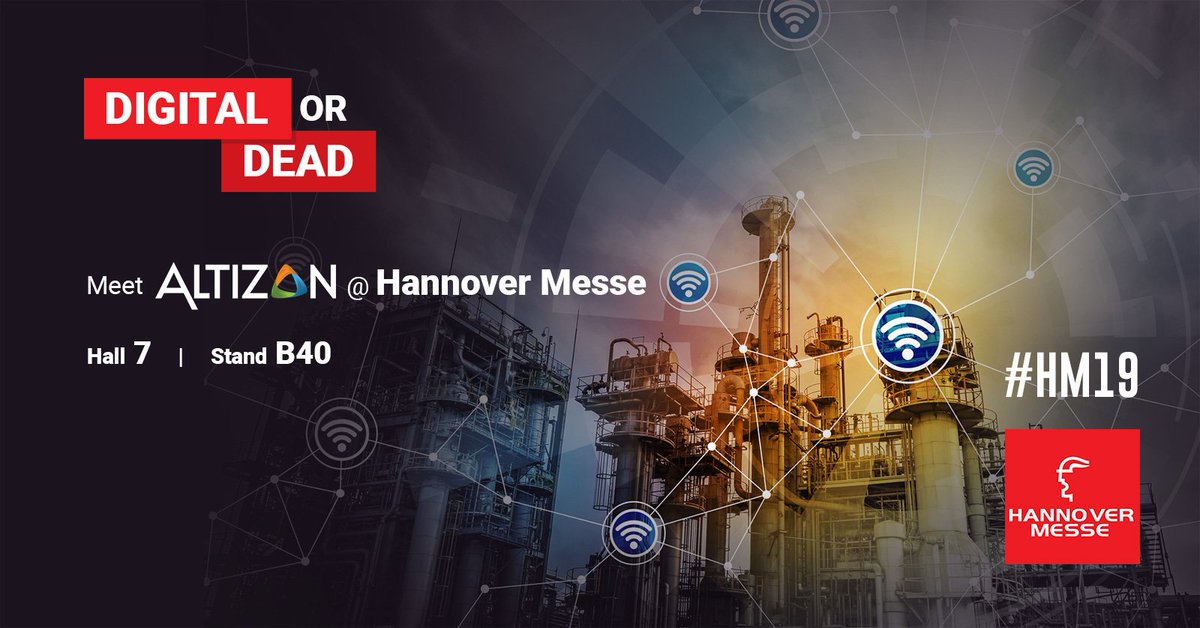 SCOTTS VALLEY, CALIF., PUNE AND DEHLI, INDIA (PRWEB) MARCH 28, 2019
Altizon Puts the Spotlight on Its Datonis Family of Solutions at Two Locations at the Premier Trade Show for Industry 4.0 Innovation
Showcasing how progressive organizations can push the envelope of Industry 4.0 innovation and use, Altizon, a global industrial IIoT (Industrial IoT) platform company, will be demonstrating its family of proven IIoT solutions at the industry trade show Hannover Messe(April 1-5). Altizon solutions will be on display in the booth (Hall 7 #B40) of Abas Software, a leading ERP solution provider, and with the Centre of Industry 4.0 (C4I4) in the event's India Pavilion at the International Hub.
"In today's manufacturing world, we have reached a critical tipping point. Manufacturers need to either embrace the digital transformation of their operations and processes now or die," said Vinay Nathan, co-founder, and CEO of Altizon. "At Hannover Messe, we are looking forward to collaborating with Abas and C4I4 to show organizations how they can transform and optimize their operations, find new business opportunities by enabling Industry 4.0 and reap the ROI benefits from their IIoT investments."
In Germany, Altizon will put the spotlight on its Datonis Suite of offerings. Datonis is a fully managed IIoT platform that lets the organization securely connect and process IoT data at scale. It provides the ability to analyze and visualize data in real-time, integrates IoT data into business applications and makes operational decisions that impact business operations and bottom-lines.
The company will showcase its Datonis Manufacturing Intelligence (MINT) enterprise business solution that integrates information from plant-floor systems to provide insights. Datonis MInt defines and delivers key performance indicators for measuring productivity, improving quality, enabling product genealogy and part traceability, and performing predictive maintenance of manufacturing assets. Altizon will also demo its Asset Performance Monitoring (APM) App used for monitoring the health of remote assets.
Altizon's global enterprise customers are leveraging the Datonis IIoT platform in uses cases that range from predictive maintenance, predictive quality, operator skill metrics and energy optimization across the manufacturing, energy and CPG sectors. The company is helping drive digital transformation for a CPG leader in 11 plants across the globe, realize significant savings on the usage of consumables at a leading tire manufacturer, and is helping connect thousands of energy meters across rural areas to help ensure high quality and availability of service to customers. To learn more, please see the Altizon Smart Manufacturing Report.
With a global footprint of over 100 enterprise users, Altizon is a leading provider recognized by Gartner in its Magic Quadrant for IIoT Platforms and by other leading analyst firms including Forrester Research, Frost & Sullivan, VDC Research, BCG, and Machnation. Altizon's proven technology helps enterprises accelerate Smart Manufacturing initiatives, modernize Asset Performance Management services and launch new business models for service delivery, among other processes. Altizon's proven technology is being used in many industries, including the automotive, tyre, steel, chemical, energy and Fast-Moving Consumer Goods (FMCG) markets.
To schedule an exclusive meeting with Altizon's IoT evangelist at Hannover Messe and to receive a special starter pack, click here.
About Altizon
Altizon is the industrial IoT company. It empowers Industrial Digital Revolutions globally by helping enterprises use machine data to drive business decisions. With a global footprint of over 100 enterprise users, Altizon is a leading Industrial IoT platform provider as recognized by Forrester, Frost & Sullivan, VDC Research, BCG, and most recently by Gartner in its Magic Quadrant for IIoT Platforms. For more info: http://www.altizon.com